Brighton vs Manchester United Match Analysis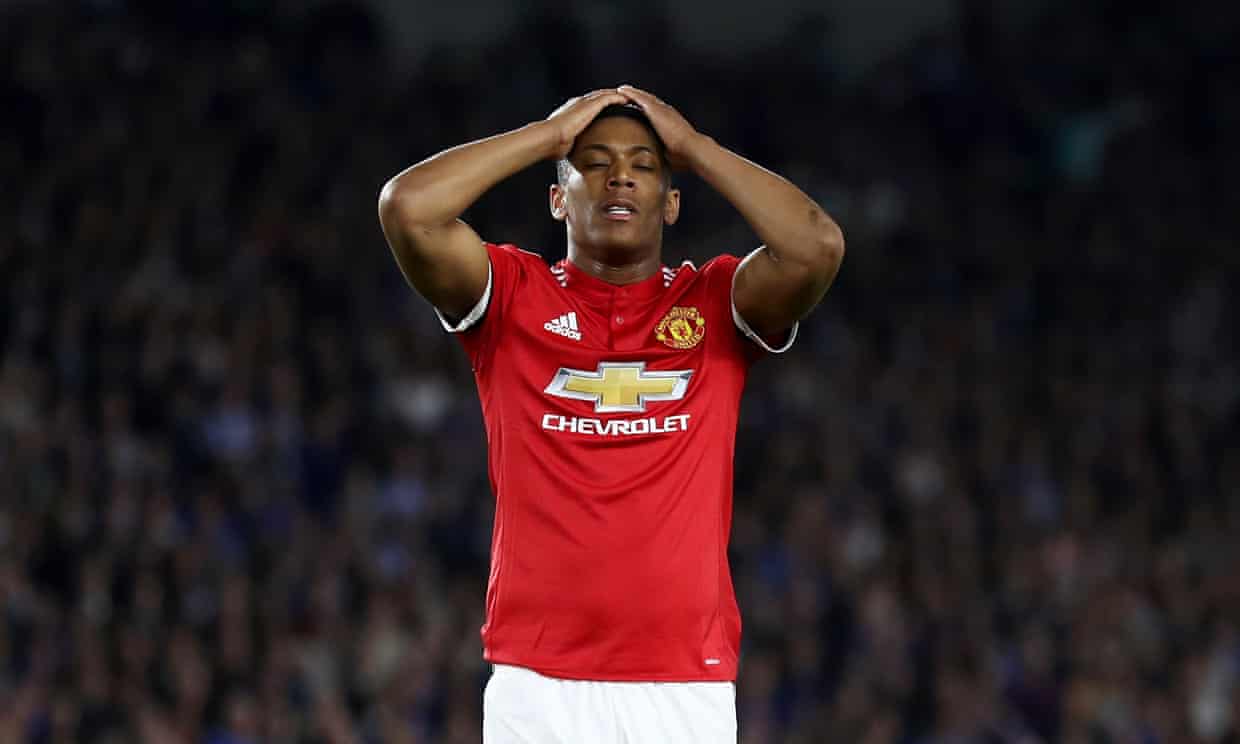 Image from the Guardian
A disgustingly poor performance again for Manchester United who lose their seventh league game of the season and a poor game for the build up to the FA Cup final with the majority of the squad aiming to impress for the big game against Chelsea and none really shining in this game. United made six changes to the side that played Arsenal last Sunday, with Lukaku and Sanchez unfit for the game, Jose Mourinho also replaced Herrera, Lingard, Valencia and Lindelof with Martial, Mata, Rashford, Fellaini, Rojo and Darmian. Before the game started, Jose claimed that both Martial and Rashford would be playing up front in a free flowing United front-line.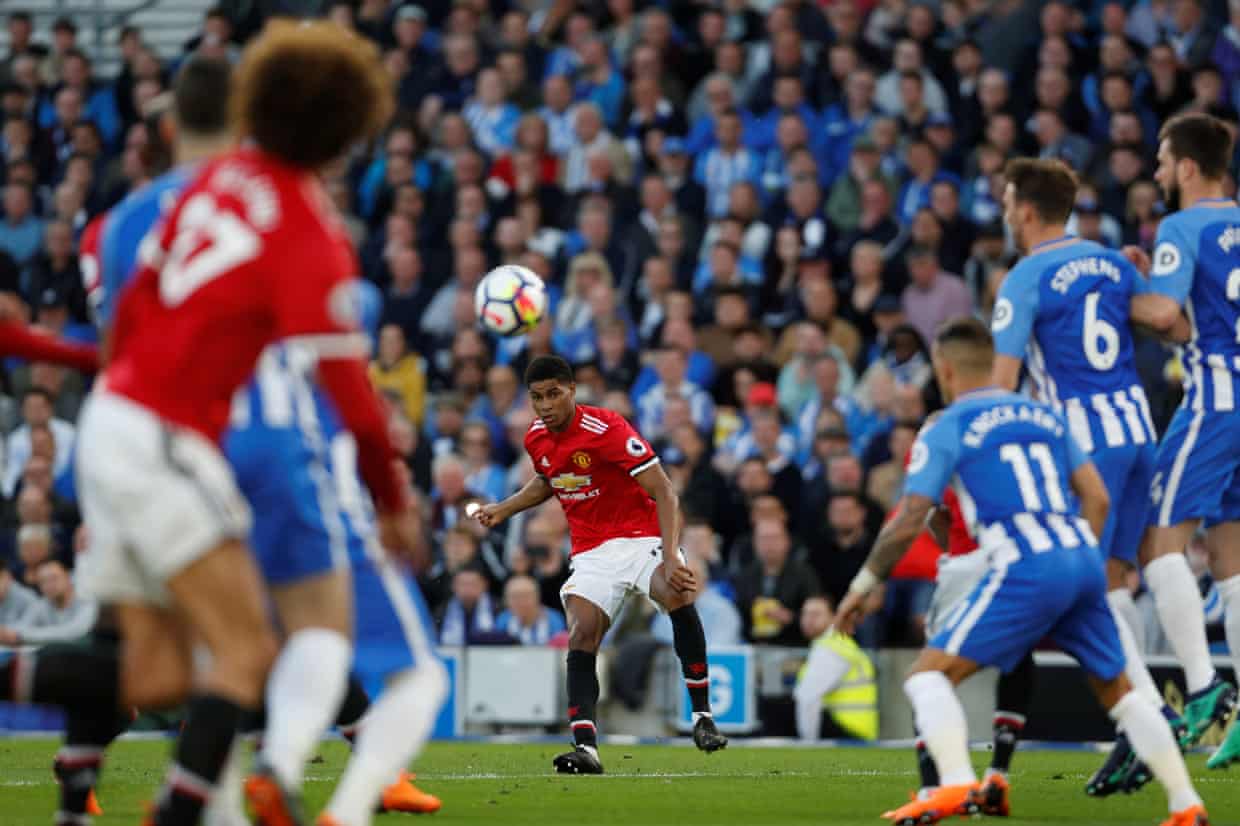 Image from the Guardian
United started the game positively with Rashford earning a freekick around 20 yards out after being body-blocked by Duffy and took the responsibility of taking it himself and although his effort was deflected off Fellaini into the Brighton net, the Belgian was correctly deemed offside. After this point, United were awful. Poor, lazy passes were easily intercepted by Brighton and the whole team kept coming short for the ball and took far too many touches, allowing Brighton to get back and defend with ease. The best oportunity for United came when a loose touch from Lewis Dunk was capitalised on by Marcus Rashford but the England international refused to square the ball to Martial who was completely open and was almost certain to have scored and the chance, to the anger of the United fans, Martial and Jose Mourinho, was wasted. Brighton however, were dangerous when they got the ball and looked to harass United's weak full backs with the pace and trickery of Izquierdo and Knockaert. Brighton forced de Gea into four saves in the first half with the best coming from a superb strike from Glen Murray which the former Bournemouth and Palace man taking the shot from over 25 yards out. A bit of dodgy refereeing in the game was really highlighted around 40 minutes in when Craig Pawson completely ignored Rashford's just claim for a freekick against Matt Ryan who takes Rashford out completely and goes unpunished, which did not help the tension for the United fans. United looked awful in the first half, only having one touch in the opposition box and Jose Mourinho was fuming from his side's tragic attempt to pass and play forward.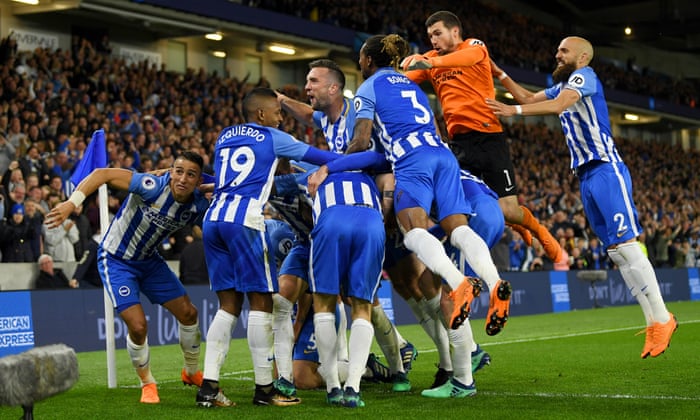 Image from the Guardian
The second half was not much better with the same issues continuing. United admittedly did create a few early chances with Pogba's curling effort saved by Ryan and Fellaini having his header blocked from a corner, however it was Brighton who drew first blood. The goal was a relatively poor one to concede with Darmian being torn apart by Izquierdo as the little Colombian clipped the ball into the box and Gross headed in to the net and although Rojo attempted to clear the ball off the line, the goal-line technology came to the referee's rescue and he gave the goal to Brighton. United looked destroyed by the goal and once again the team dropped deep for the ball and took far too many touches with the ball and chances fell away. Mata earned another effort at goal after Gross brought him down just outside the box, but the little Spaniard could not make it count and another shot goes awry. Jose had had enough at that point and brought on Lingard and Shaw came on for Fellaini who had been terrible today and Darmian who was always terrible. Rashford got United their best effort so far with a powerful shot forcing Ryan into a full-length save and the Australian was called into action again but Lingard's effort was much more tame and the Brighton keeper caught it comfortably. Martial was by far United's most dangerous player today and was unlucky on several attempts as he skied two efforts in the space of four minutes but was even poorer later on with a poor touch costing more time for United and an average cross giving Matt Ryan catching practise. United then missed two final chances with Lingard put off just before taking his shot as he misses from about 12 yards out and Martial's header just going wide and really summed up a poor game for United and a remarkable victory for Brighton which all but guaranteed them safety.
For Manchester United it isn't the end of the world, they still hold all the cards for guaranteeing 2nd place as they must gain four points to ward off a last gasp effort from Tottenham and still look forward to the FA Cup final on the 19th. What is a concern is the level of quality and maturity (or lack of) from the players in this game and who so far has earned their place in the final. Martial looked dangerous but had very little end product, Matic was poor, Pogba was careless and lazy, Mata took too many touches and was relatively ineffective and Rashford was selfish at times and all should be embarassed with their performances. The next two games are crucial to see who will play in the final which United cannot afford to lose.