Manchester United vs Chelsea Combined XI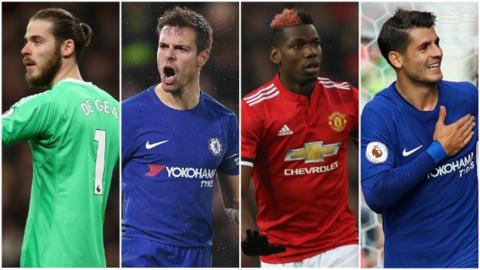 As Manchester United's big week draws to a close with a huge game against Chelsea, Sky Sports has been voting for the best players in each position for both Chelsea and the Red Devils and so we have produced our own combined XI for the two giants of the Premier League with the players fit for the game in a 4-3-3 formation.
GOALKEEPER - DAVID DE GEA
Easiest choice by far. Whilst Thibaut Courtois is a fabulous goalkeeper and has had an excellent season, Dave has topped it with a remarkable one. He has made the third most saves in the Premier League with a record equalising 14 at the Emirates and produced a world class performance against Sevilla on Wednesday.
RIGHT BACK - ANTONIO VALENCIA
He has had an indifferent season with stunning performances against the likes of Everton and Arsenal but struggled recently against Tottenham and Sevilla. Nevertheless he is the silent leader of the team and gets the nod ahead of Victor Moses or David Zappacosta.
RIGHT CENTRE BACK - ERIC BAILLY
He played for a few minutes at the end of the Huddersfield game and was the first time he featured for United since the game at Stamford Bridge but is easily United's best centre back. He is hopefully going to be subbed in for Chris Smalling who returned to his poor form against the Sevilla attackers.
LEFT CENTRE BACK - CESAR AZPILICUETA
Chelsea's best centre back by miles with Cahill's inconsistencies, David Luiz being frozen out for half the season and Antonio Rudiger adjusting to the Premier League. He is a fantastic defender and very versatile - being able to play left back, right back and centre back and is a shoe in for this combined XI.
LEFT BACK - MARCOS ALONSO
He has been very consistent for the last year and a half for the Blues. He is a very attack-minded full back and creates chances, scores a lot of goals for a left back and is a dangerous freekick taker. With all United's worries at left-back with Ashley Young's inconsistent season and Luke Shaw coming in and out of the team, Marcos Alonso is a clear winner.
CENTRAL DEFENSIVE MIDFIELDER - N'GOLO KANTE
He is one of Chelsea's most consistent players and its no shock that he is being linked with moves to PSG and Real Madrid as he is a world class midfielder. Whilst Matic is also a great player he is not at the level of this little Frenchman and has had some difficult moments this season.
RIGHT CENTRE MIDFIELDER - CESC FABREGAS
He is still a fantastic player and whilst he may be slowing edging out of the Spain side for the new young talent, he is one of the best passers in the world and is vision and distribution is impeccable. He will link up with the attacking players and is more than able from turning defence into attack and will be vital for Chelsea at Old Trafford.
LEFT CENTRE MIDFIELDER - PAUL POGBA
There is no doubt over his ability and although his confidence is shot he showed moments of brilliance against Sevilla and tried to make chances as well as keeping to his defensive duties. He would pair quite nicely with Fabregas as they are similar players and would be able to have more license to roam with Kante's defensive ability being that of two players.
RIGHT WINGER - ANTHONY MARTIAL
This was the most difficult decision as there are four or five players who could have earned a spot in this position. Martial has had a great season and is likely to beat his highest season tally of 11 goals in 2015/16 with nine goals already in the league. Whilst players like Sanchez, Mata, Willian, Pedro or Lingard all could have been in this team, Martial has been the most consistent of them all and is a game changer for the Red Devils and should start for United and this combined XI.
LEFT WINGER - EDEN HAZARD
Another player being linked with a move to Real Madrid and rightly so. He is a mercurial talent and Chelsea's best attacker by far. He has carried his team for most the season and links up well with Marcos Alonso and would dance around most defenders when given the chance.
STRIKER - ROMELU LUKAKU
Morata is a very good player and Giroud works well with the players around him but the big Belgian has had a good season despite issues in the middle. Lukaku has scored 21 goals this season and is likely to surpass Ibra's 28 goals last season to show that he is the man to lead United's line as well as this combined squad.