Portugal vs Spain Match Analysis and Player Ratings
Portugal vs Spain Match Analysis and Player Ratings
Image from the Telegraph
Wow! The best game of the World Cup so far! An even game ended with a point shared between these European giants after a Cristiano Ronaldo hattrick levelled the game after 88 minutes as the game ended 3-3. Spain lined up in a 4-1-4-1 formation with De Gea between the sticks, Nacho, Ramos, Pique and Jordi Alba as the back four, a malleable midfield with Busquets playing deep and Iniesta, Koke, Silva and Isco all playing in a more advanced free-moving position, and Diego Costa leading the line. Portugal lined up similarly but more in a 4-3-3 formation with Rui Patricio in goal, defended by the back four that performed so brilliantly against France in Cedric, Pepe, Fonte and Guerreiro. William Carvalho played as the anchor in the midfield three, flanked by Bruno Fernandes and Joao Moutinho. Portugal played with a free-flowing attacking three with Man City's Bernardo Silva, PSG's youngster, Goncalo Guedes and their captain, Cristiano Ronaldo.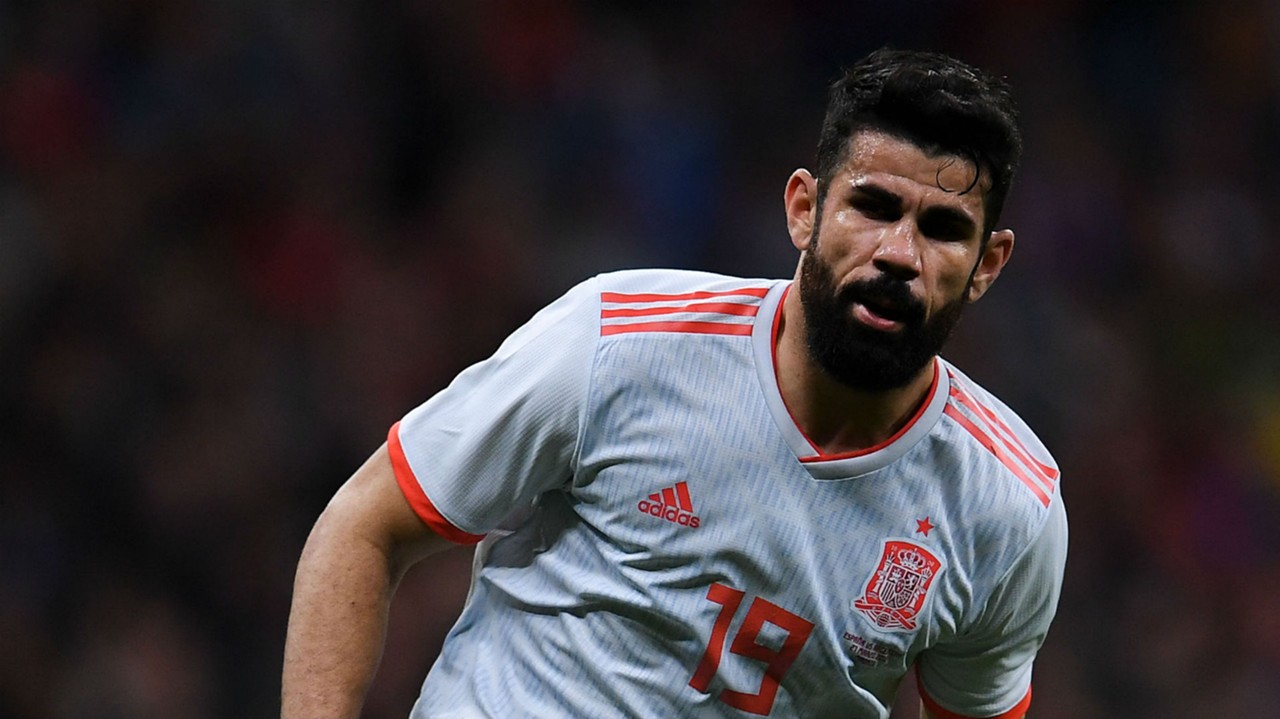 Image from Goal.com
Portugal started the game exceptionally, pressing Spain and winning the ball frequently and were off the mark in just under five minutes, after Cristiano Ronaldo was tripped by Real teammate Nacho Fernandez and was given a penalty. The captain took the ball himself and despite a talk from David de Gea, converted the penalty after sending the Manchester United goalkeeper the wrong way and becoming the fourth player to score in four consecutive World Cups. Spain then seemed to switch on and could have scored seven minutes after the penalty after David Silva had a chance that sailed over the bar as he slipped when making contact with the ball. Portugal seemed happy to sit back with eight or nine men behind the ball and kept creating chances and after 17 minuted being played should have made better of the counter attack but Guedes took too long on the ball and could not find Ronaldo who had made a lung-busting run, and the chance was snuffed out. After a long spell of Spanish possession, they finally scored their first goal of the World Cup through Altetico man Diego Costa. Busquets pinged the ball sixty odd yards up the pitch towards Diego Costa who bullied Pepe off the ball, who weakly dived in an unsuccessful attempt to win a freekick, and continued to confuse Jose Fonté before drilling the ball past Rui Patricio and scoring his first goal at any World Cup from his first shot on target at a World Cup. Portugal attempt to retain their lead straight after but once again Guedes' lack of experience brings disappointment in the attack. Spain could have easily lead the game with a stunning strike from Isco which cracked against the inside of the crossbar but did not cross the line. They could have easily scored again from a beautiful tiki-taka move which venerable Andres Iniesta was on the end of and narrowly misses the far post with a placed effort. Against the run of play, Portugal ended the half with a 2-1 lead after an absolutely shocking mistake from David de Gea. Ronaldo was given the ball by Goncalo Guedes and just outside the box fired a hard shot straight at de Gea, a shot any goalkeeper ought to save with their eyes closed but the Spaniard seemed to transform into Loris Karius mid shot and spilled the ball into his net.
The second half did not start with the same excitement as the first but Spain dominated the play in an attempt to level the game and it did not take long for Spain to do so. After Joao Moutinho conceded a foul around 35 yards out, David Silva whipped the ball to the back post which was headed back into the danger zone by Sergio Busquets and was tapped in by the big centre forward who doubled his World Cup tally and brought Spain back into such an exciting game and you could feel that the goals would not stop yet. Sure enough, three minutes later, Spain scored to lead the game for the first time, with an absolute screamer from Nacho. The ball ricochets back to the full-back who strikes the ball on the half-volley and arrows into the bottom corner with Patricio having no chance.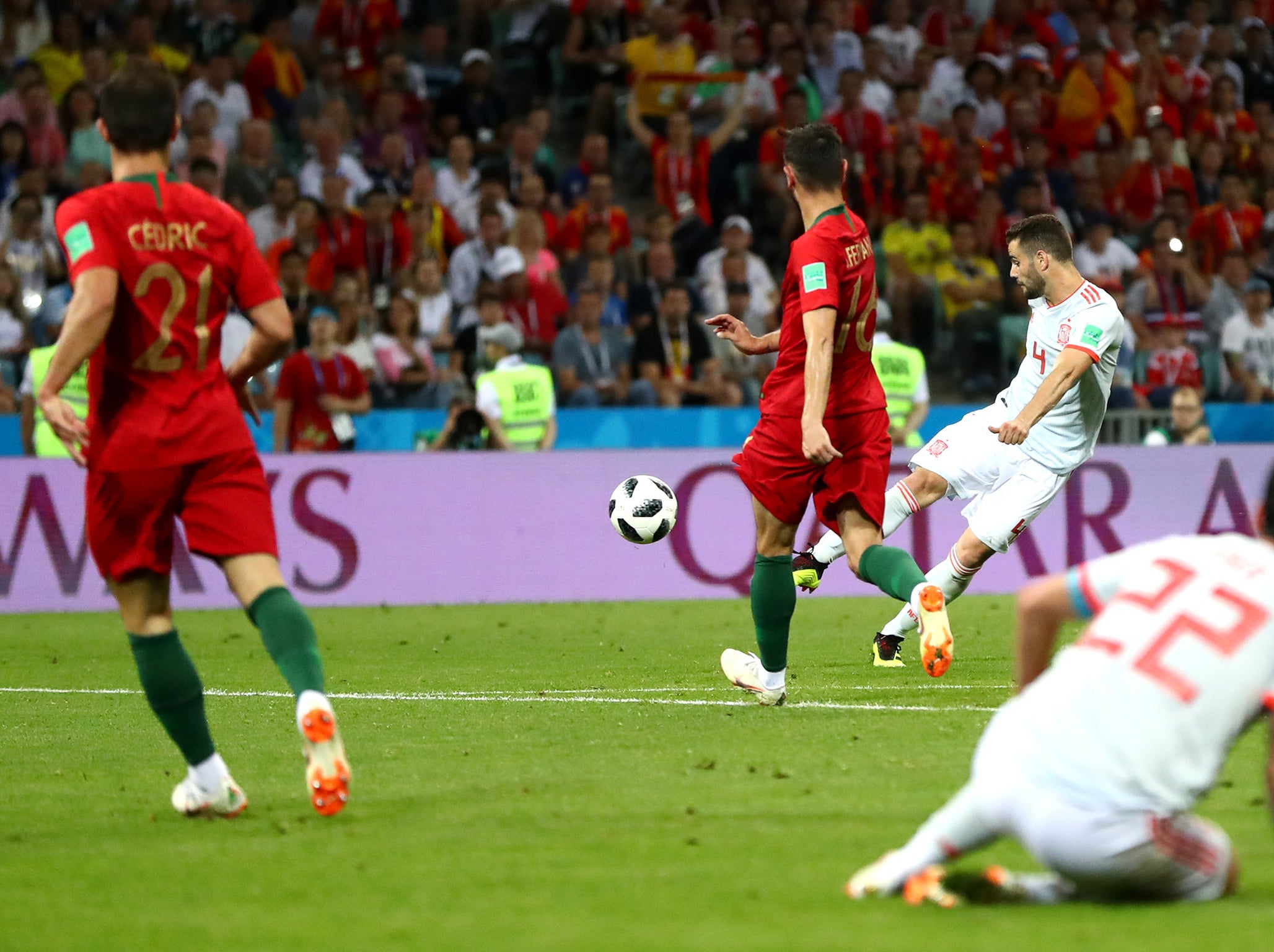 Nacho scores a contender for the goal of the competition
(Image from the Independent)
Spain still had the majority of the possession and played deep in Portugal's half in an attempt to seal the win and frustrate the Portugese with a lack of possession. While this did occur, Portugal still look dangerous on the counter now with Ricardo Quaresma and Joao Mario on for Fernandes and Silvaand were unlucky not to create a better chance when de Gea rashly came out and did not get to the ball and whilst Quaresma could have scored, was deemed to have handled the ball and the chance ended. Now with Andre Silva on for Goncalo Guedes, there was a more central striker to work with. Ronaldo tried to work an opening with two minutes of normal time to go but was brought down by Barcelona's Gerard Piqué roughly 24 yards out and in a decent scoring opportunity. Ronaldo took the ball and made it his chance to once again be a national hero, despite not having the best statistics for freekicks lately. He stood tall and in the classic stance and struck the ball into the top corner as he scored his 51st career hattrick and the 51st World Cup hattrick ever. A sensational way to end the game that delivered the excitement that it promised and one which left Iran topping the group after their 1-0 win over Morocco earlier today.
PLAYER RATINGS FOR PORTUGAL:
Rui Patricio (6) - Nothing he could do with the three goals but was comfortable in possession and made a decent save in the first half
Cedric Souares (6) - decent deliveries and worked hard defensively
Pepe (5) - I do not understand why he fell to the floor in the build up for Costa's first goal but was average today
Fonté (6) - Was decent, did not do much wrong but was confused by Costa for the first goal
Guerreiro (5) - His crosses were average and decent defensively but will want to have more impact in the future
Carvalho (7) - Strong and composed. Tried to get attacks going and marked Iniesta and Silva from time to time.
Fernandes (5) - Average today. Did not see much of him except a hopeful 30 yard effort at the start of the second half.
Moutinho (6) - Also average but tried to get things going in midfield so gets a slightly higher rating
B. Silva (6) - Exciting at times but often a bit sluggish. Worked very hard defensively at times but not his best game.
Guedes (6) - Set up Ronaldo's second goal but his inexperience hindered his performance and may be benched for Silva or Martins in the next game
Ronaldo (10) - 10/10 performance from Ronaldo. The man who raised his team in the darker parts of the game and carried them to this victory with his wonderful hattrick in perhaps his last World Cup.
SUBS
Joao Mario (7) - Worked hard and made strong runs forward. West Ham would be lucky if they could sign him permanently.
Ricardo Quaresma (7) - Energetic as well and created a few chances when he came on.
Andre Silva (n/a)
PLAYER RATINGS FOR SPAIN
David de Gea (4) - His worst game for a very long time. He made an absurdly poor mistake which allowed Portugal to gain some momentum and Spain to be on the back foot again, and did not make a save the whole game. He must improve and return to the form that dubbed him the best goalkeeper in the World.
Nacho Fernandez (7.5) - He was at fault for the first goal but made amends with a screamer just before the hour mark. A good fullback and showed his pace as well.
Sergio Ramos (6) - Average, worked well today but did not do anything special. Would want to be more secure in defence as Portugal did create a number of chances which a team with more experience than Guedes or Silva would convert.
Gerard Piqué (5) - Fouled Ronaldo which led to the late equaliser and also did not do anything exceptional but was often caught out.
Jordi Alba (6) - Also average, did not show off his pace so much and his attacking prowess but was not bad today.
Sergio Busquets (8) - Two assists, a long ball and a set play. Hardly a conventional way for Spain to score or for Busquets to assist! Was the man turning defence into attack and did so exceptionally.
Koke (6) - Avergage but did nothing of note.
Andres Iniesta (7) - Silky smooth but got tired quickly. Could have easily scored in the first half when it was 1-1 and would have changed the game completely. A true Spanish legend.
David Silva (8) - A fantastic talent and got more involved in the game as it progressed. Also unlucky not to score in the first half and would have done had he not slipped.
Isco (9) - A really good performance which he grew into and was another unfortunate Spaniard not to have scored in the first half after his rocket of a shot crashed against the woodwork. He looked the most dangerous Spaniard all game and would have liked to have got on the scoresheet.
Diego Costa (9) - The target man was exceptional and looked the buisness against Portugal, earning his brace.
SUBS:
Thiago (7) - Looked lively and fresh. Should start the next game.
Iago Aspas (n/a)
Lucas Vasquez (n/a)
MAN OF THE MATCH: CRISTIANO RONALDO
Image from the Telegraph