Manchester United vs Barcelona Match Preview
The lights! The music! Manchester United vs Barcelona - A tie etched in Champions League folklore is back! The Champions League is back and this time it's the quarter finals! A huge game awaits us as Barcelona travel to Old Trafford for the first leg. This is massive game for the boys and Ole Gunnar Solskjaer, and a win here could seriously boost our confidence for the away leg. The last time we played in the Champions League, was a night to remember and one that will go down in United history books as Ole's boys got a 3-1 win against PSG, away from home, with plenty of our players suspended or injured.


Barcelona, however, won't let this happen especially after their tie against Roma last season. Therefore any slip ups in the match will be punished by them. And unlike PSG, Barca's key players are all injury free for this tie. They will be up for this tie from the get go and we need to make an early statement that we're not going to be pushovers.


Barcelona was the toughest team we could have gotten in the Champions League and of course we drew them. They go into this game as absolute favourites and they obviously plan on winning the whole tournament altogether. And let's not forget that Barcelona have the best player in the world in Lionel Messi. The God of football will definitely cause problems for us and Ole's masterclass lies in shutting him down completely. Even if we cut out his source, he has it in him to dribble all the way from the halfway line and score. We need to deploy Herrera on him like how Jose nullified Hazard a couple of seasons ago. Even though there is a vast difference between Hazard and Messi, we'll still see a lot less from him if he's completely man marked. This will enable Lindelof to spend his time watching Suarez.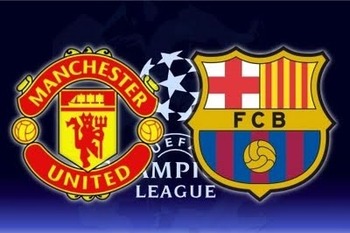 Image Source: Bleacher Report
Lineup predictions:
Goalkeeper:
David De Gea
There's no question about this. When we face the best, our best need to play.
Defenders:
Ashley Young, Chris Smalling, Victor Lindelof, Luke Shaw
As much as I hate Young and Smalling, they need to start. Dalot isn't ready to play 90 mins against Barcelona. Even though he was great against PSG, I don't see him getting that right back spot. Eric Bailly could get a shout from some of our fans but after his horror show in Paris, it's a no from me. Jones? Sure, if we want to get humiliated. Luke Shaw at left back, obviously.
Midfielder:
Scott McTominay, Andreas Pereira Paul Pogba
With Herrera definitely ruled out of the tie and Matic facing a late fitness test, I'm going for a midfield three of McTominay, Pereira, and Pogba. I've been calling out for McTominay to start for a while because he has been much better than Matic whenever he has played for us since Ole took over. In his presser, Ole highlighted the importance of Pogba in the squad and we're banking on his performance for such a big game.
Forwards:
Marcus Rashford, Romelu Lukaku, Jesse Lingard
While this isn't a very formidable frontline, I think it is best for us. As opposed to a lot of fans, I personally believe that Martial's inconsistency is rather annoying especially considering the hype he gets. Rashford also will face a late fitness test but I feel he'll pull through. Lukaku should be up for it against the likes of Pique and Lenglet particularly after what Robert Fernandez said about him. We will need Jesse Lingard to dictate the pace in the final third. Also we do not have a proper right wing to replace him.

So the big nights return to Old Trafford. Our beautiful stadium has seen some of the best players and tomorrow night, it will see the best there ever was. I can not wait and I really hope our lads do not disappoint us. There is no shame in losing to one of the best sides in the world right now, but there is shame in losing without a fight! GGMU!

Score Prediction: 2-1 to United