Manchester United vs. Chelsea Player Ratings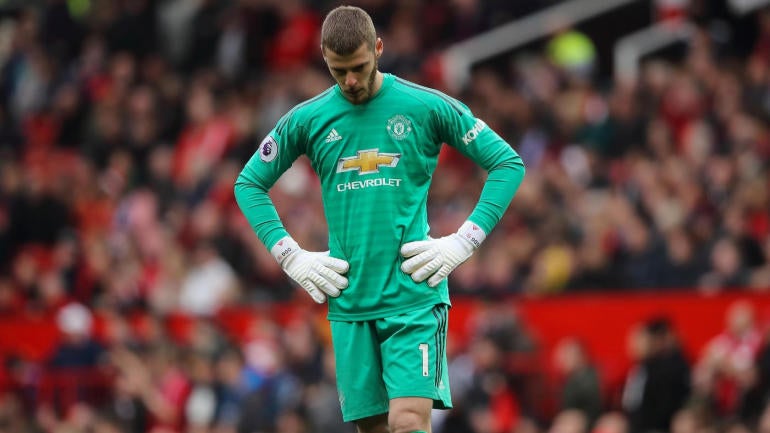 Image from the Telegraph
United and Chelsea draw today as De Gea's mistake allows Alonso to equalize Mata's earlier goal. The game ended 1-1, and top four hopes are all but gone.
Here are the player ratings:
David De Gea (4/10):
At a loss for words really. David De Gea hasn't been himself lately and hasn't show any signs of getting better. Other than the mistake fielding Rudiger's shot, allowing Alonso to score, he actually had a decent game, looking unnerved throughout the rest of the match. We can't blame him for the loss, though. United had a whole other 45 minutes to get another goal and couldn't do it.
Ashley Young (6/10):
Despite recent form, Ashley Young played surprisingly well today, making some good tackles and even some intelligent runs. Still can't cross if his life depended on it, but other than that the 34 year-old impressed.
Luke Shaw (7/10):
The pattern with Luke Shaw is becoming more and more apparent. For the majority of the first half, he's attack, attack, attack. As the game progresses, however, those attacks become less and less, probably due to Shaw being such a big lad. I'm more than okay with this though, because as we all saw, it was his attacking run that was key in letting Mata bag United's only goal.
Eric Bailly (7/10):
Let's all sincerely hope that this is not another serious injury for Eric Bailly. The man played incredible, making clinical tackles, playing at 100% the whole time he was on the pitch. He even had a few shots on goal. It was nice to see him and Lindelof together -- that duo is certainly a strong one.
Victor Lindelof (7/10):
Lindelof was another defender today that did well. Making more than few tackles (one or two on Hazard), Lindelof lived up to the Iceman persona. He never really looked nervous when Chelsea was on attack, that could be due to the trust he had with his centre-back parter, Eric Bailly.
Ander Herrera (6/10):
Played really well for the majority of the game, making good tackles, giving this United squad some much-needed energy. Athough, like much of his teammates, Herrera seemed to be fatigued in the second half. Got a yellow card for a crunching challenge in the 42nd minute. Herrera, along with United's back four kept Eden Hazard pretty quiet all day.
Nemanja Matic (5/10):
The Serbian international played a decent game but still looks a step behind at times. Matic was good with the ball, making passes, going on little runs. However, when he was needed back on defense, Matic seemed to always be chasing, instead of defending in front of the attacker.
Paul Pogba (6/10):
Pogba's attitude was correct today, and you could see it in his play. Spots where the Frenchman is just mesmerizing with the ball. He drew plenty of fouls and picked out some terrific passes. Seemed to tire in the second half with the rest of the squad.
Juan Mata (7/10):
Mata's gave United the first goal of the night, coming off a terrific assist from Luke Shaw, that came from an even better pass from Romelu Lukaku. Juan Mata played well today and showed some good spots, making lovely passes. Along with Matic, though, he just looks a step behind due to a lack of game time.
Marcus Rashford (5/10):
The young Englishman was unimpressive today. He made some good runs, and his pace allowed him to get into some really dangerous areas, but he couldn't finish any of them and it's almost as if he tries to do too much with the ball at times. Was one of the many United players who were flat in the second half.
Romelu Lukaku (6/10):
Was perhaps the most noticeable out of all the United payers who fatigued rather quickly. Lukaku was brilliant in the beginning of the first half, having incredible touches, creating chances, and getting some shots on goal. After about the 35th minute, Lukaku was running on empty. When he came out the second half, the Belgian international still looked drained and didn't make too much of an impact on the game in the second half.
Subs:
Alexis Sanchez (6/10):
Probably the most surprising player on the pitch today. Sanchez brought on a lot of energy, which United -- and the game in general, needed. He was everywhere on the pitch, winning headers, making tackles, and creating chances. When McTominay was subbed on, he and Sanchez developed a one-two punch, linking up with each other on more than a few attacks.
Marcos Rojo (5/10):
The Argentine had to come on for an injured Eric Bailly in the 70th minute. He played decent, not giving up any silly goals. Even almost scored the game winner, if not for Pedro. Rojo got a yellow on a nasty tackle on Willian that probably should have been a red.
Scott McTominay (6/10):
McSauce impressed again! The man throws his strength around and wins balls for United. He even developed a partnership with Sanchez a few times, and created some chances for the Red Devils. I feel like if McTominay woul have been brought on a while earlier, United may have come out on top.