4 Key Players for United's 2nd Leg Clash Against Barcelona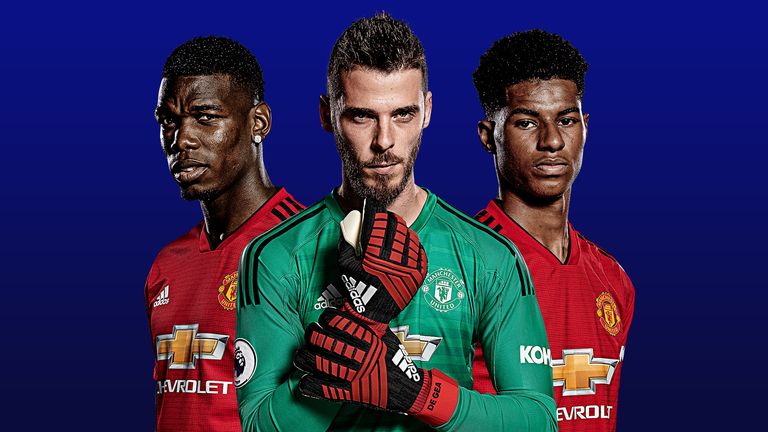 Image from Sky Sports
On April 16th, Manchester United will travel to the Nou Camp in Barcelona to try and beat the Spanish giants in their own home to advance to the Champions League semi-finals. Already being down 1-0, it will be a difficult task but as our newly-appointed gaffer, Ole Gunnar Solskjaer, said, "Mountains are there to be climbed". United were the better team in the first leg, only giving up a sloppy goal in the beginning stages. Nevertheless, the players showed that they are more than capable of beating this Barcelona side, and I believe they can do it.
Winning this match will have to be a team effort by United, but there are four players who, if they perform Tuesday night, will make the victory that much easier to achieve.
La Pioche will have to be at the top of his game and nothing less come Tuesday night. The Red Devils need every last bit of Pogba's superstar talent to help propel them to victory -- because as we all know, when Pogba is clicking, it opens so many other opportunities for us to attack. When the Frenchman puts all of his skills together, it simply overwhelms defenders and they begin thinking of how Pogba is going to attack them, instead of thinking about how the team will attack them. When the opposition keys off Pogba like this, it allows for players like Lingard and Lukaku to get into space, creating chances for United. The flip side of this, if Pogba decides (and it is a decision) not to give all his effort Tuesday night, and instead of putting on a masterclass, plays a selfish, lazy game, it will make the victory Manchester United need very difficult to obtain. I have faith in Pogba, however. In the first game against Barcelona, he didn't play too bad, and in fact, our entire midfield played a great match. In Saturday's Premier League match against West Ham, Paul Pogba had a strong showing yet again, bagging two penalties to give United the victory over the Hammers. If Pogba continues playing like this Tuesday night, it will be a long night for those Barcelona players.
Scott McTominay or McSauce as everyone likes to call him, was outstanding in the first leg against Barcelona. From sending Arturo Vidal sliding into the next universe, to blanketing Messi, to winning countless headers in midfield, the young Scot was our best player on the pitch that night. Manchester United will need that same type of performance April 16th. The midfield was the best thing about United in the first match, and McSauce is a big reason why. McTominay played with no fear that first night, and seemingly had no nerves about him at all. Maybe some of our other players can learn a thing or two from young Scott McTominay. Nevertheless, I would love to see Ole play that same midfield in the second match, because Pogba, Fred, and McTominay all seemed to click together quite nicely, and as the old saying goes, "If it isn't broke, don't fix it."
The best goalkeeper in the world will need to put in a best-goalkeeper-in-the-world-like performance at the Nou Camp. Although De Gea wasn't tested too much in the first leg against Barcelona, he still had a good overall performance, even saving a would-be Coutinho screamer. I sincerely hope that the second match is fairly uneventful for United's goalkeeper, much like the first -- but this is football, and I know that this won't be the case. This is why De Gea is one of the four key players. Barcelona will not just sit back and protect their one-goal advantage in the second match. They will attack and try and put Manchester United away. Luckily for United, they have the best goalkeeper in the world. The Spaniard will have to be at his very best as I'm sure Barcelona will create more than a few chances, and Manchester United definitely cannot afford to give up another sloppy goal like they did the first leg. Another reason De Gea will need to be on top of his game, is because I could easily see this second leg going to penalties. That is where United will need him the most, because Barcelona has a plethora of great penalty-takers, as do we. It could very well come down to who can save the most penalties -- De Gea or Ter Stegen, both arguably top five goalkeepers in the world. It would be a thriller for sure!
The last key player was a toss up between Marcus Rashford and Romelo Lukaku. I went with Rashford because when he's playing his style of football, he has more of an impact on the game than Lukaku. Either way, the most important factor is that we have finishing this game -- and I believe Marcus Rashford can provide that. Finishing seems to be the one aspect of the game that United have been lacking as of late, and if Rashford can find the finishing touch on our attacks, United could very well win this game 2-0 if they wanted to. It seems that United is always able to create wonderful chances, but the finishing is almost never there, and although I'm betting on Rashy being able provide the finishing, the final touch can come from anybody, just as long as it is there, and we are able to bag a goal. Rashford hasn't been in the best form in the past couple games, mainly due to him battling an injury, but even with him not being at 100% he has played decent. I believe Rashford is poised to play the game of his life at Camp Nou this Tuesday, and he's going to be clutch -- just like he was in the comeback win against PSG in the previous round of the Champions League.
In a perfect world, all four of these players will play up to the fans' expectations and Manchester United will advance to play either Liverpool or FC Porto in the semi-finals. This is not a perfect world however, and many things could happen in the second match. It all comes down to United capitalising on chances that are created, because with a team like Barcelona, you have to seize every opportunity, otherwise at the end of the match, there will be a lot of "we should have" instead of winning and there being a lot of "we did". I have 100% faith in United come Tuesday night, and I know the players have confidence, especially since they were the better team in the first leg. Look for Pogba and McSauce to boss the midfield all night, and in turn, chances for goals will arise. I predict a 2-0 beating of the Spanish giants on April 16th.